We are looking forward to unveiling the latest UGO's features at AIX!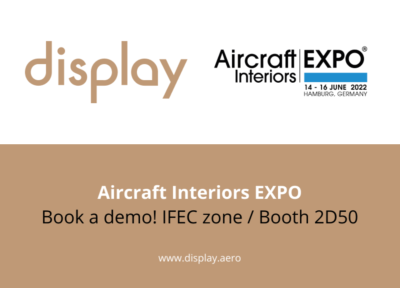 May 20, 2022
Display Interactive will exhibit at Aircraft Interiors Expo in Hamburg from 14th to 16th June 2022, and our team is thrilled by the perspectives of sharing with you, in face-to-face interactions, our latest developments.
Make sure to book an appointment to get a hands-on trial, on your own device, of our UGO wireless IFEC solution. You'll discover how we have boosted ancillary services and personalisation, using connectivity.  We'll explain how we have combined the best of connectivity and IFE worlds, and recorded massive transactions and conversions on aircraft in operations.
Our team will be based on booth 2D50, in the IFEC zone.
It is recommended booking a demo slot using the button below, but you are welcome to just pop up and ask for a coffee (and a chat)!