Let's get in touch!
We are curious about your needs and projects, and excited to assess how our solutions could possibly help. Send us a short message, our teams will get back to you and arrange for a discussion,  a demo or a visit! 
Industry events
We can also meet during one of the many industry shows we are attending.
See below our current plans!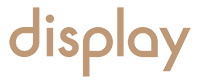 Display Interactive
106, avenue Marx Dormoy
92120 Montrouge, France
For general product or corporate info: contact@display.aero