AIX 2023 Sponsoring Campaign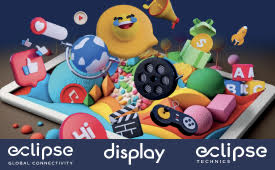 March 1, 2023
Visitors organizing their visit to Aircraft Interiors 2023 (Hamburg, 6-8 June) thanks to the AIX Connect portal will likely notice our sponsoring campaign.
Display Interactive, Eclipse Global Connectivity and Eclipse Technics are proud sponsors of the AIX Connect page for the upcoming AIX2023 event in Hamburg.
This campaign will be continued with emailing and social networks in the coming weeks. As European major players in IFEC, Display Interactive and Eclipse bring a wealth of expertise and experience to this exciting event, where our respective teams will connect and network with fellow industry professionals.
We look forward to showcasing the latest technologies and solutions AIX2023, make sure to visit us on booths 2D50 and 2C40!