Aegean Airlines x Display Interactive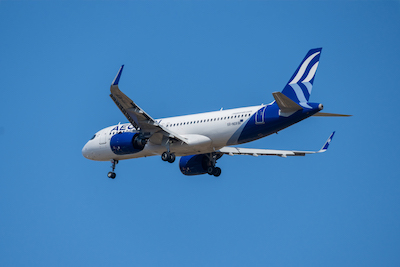 February 3, 2022
Aegean Airlines launches customer-centric wireless IFE & connectivity service with Display Interactive.
Aegean Airlines announced on February 3rd, 2022, the commercial launch of Aegean WiFi, and passengers are now able to enjoy a personalized experience during their flight, including connectivity services from EAN (European Aviation Network).
SX-NEB pictured here (photo credit: Jean Deville) was one of the first aircraft within Aegean Airlines' fleet to be installed with the new service a few months ago, successfully followed by other A320neo and A321neo aircraft.
The portal was provided by Display Interactive, leveraging its off-the-shelf UGO wireless solution. As a result of the extensive collaboration with Aegean Airlines' marketing and digital teams, it was fully customized into a bespoke web portal, providing a unique experience as IFE and IFC services are merged into an attractive platform, with multiple ancillary options.
While Inmarsat and Deutsche Telekom have provided EAN connectivity service, Aegean Airlines and Display Interactive integrated the Internet plans within the airline loyalty program and CRM, to offer passengers personalized plans, based on their membership status, travel and tariff class. Alternate plans are also dynamically created on specific routes.
Aegean Airlines passengers will enjoy – especially when flying over the Greek islands or the Corinth gulf – the bright colors and the stunning resolution on Display Interactive's high definition moving map – the only sensible way to pay tribute to the incredible landscapes of the Aegean Sea.
The portal offers of course rich entertainment options, with video programs, music and games. It also includes TV news, automatically updated multiple times per day, under a specific agreement with Euronews. However, beyond entertainment, Aegean teams wanted to develop an engagement platform for their passengers.
Therefore, Aegean's business partners within the travel value chain have been integrated in the portal, including contextualized car rentals, destination services or buy-on-board. Aegean WiFi also provides an extensive advertising and digital property inventory, including a 'Story' module inspired by digital platforms, which will be used by the airline for its own targeted communication and for generating sponsoring revenues.
After this initial release, Aegean WiFi will periodically be upgraded with new features, either developed by the airline or by Display Interactive, based upon analytics collected or A/B testing capabilities offered by the solution.
For all of us at Display Interactive, it has been a great pleasure to work with Aegean's teams and management in preparation for this launch.  We would like to say thank you for their trust and their constructive, forward-thinking mindset. We are definitely looking forward to pushing their PAX experience to new highs in the coming months and establishing new standards for personalized IFEC services.